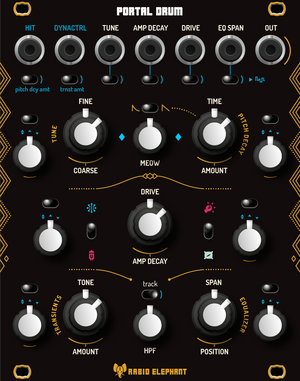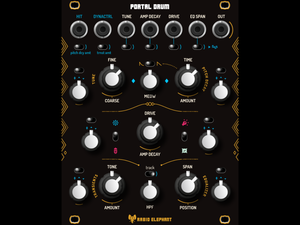 Portal Drum
Above pic is of the PD prototype.  See panel renders for actual look.  Real photos coming soon.  Orders ship within 2-3 days.
Overview
Portal Drum is an ultra-powerful sound designer for creating tuned-drum sounds.  Portal Drum is particularly well suited to create kick drums but it will also create many great sounding toms, percussion instruments, and synth/bass lines.  With Portal Drum, we wanted to make a new canonical drum sound with subtle nostalgia.  Through this portal you will undoubtedly discover new territories!
Portal Drum utilises an underlying philosophy that we feel an instrument should sound right with minimal or even no additional processing.  You will immediately find Portal Drum fits much better in a mix without compression, post-EQ, layering, resampling, etc.  This keeps the music making process more immediate and fun.
Portal Drum features a total of 3 painstakingly designed envelopes to drive pitch sweep (FM), TRANSIENT, and AMP DECAY.  These novel envelopes are a big part of Portal Drum's characteristic sound and not found in any other drum synthesizer.
The Portal fold circuit adds focused and more interesting nonlinearities from subtle warmth and saturation to near-extraterrestrial reaches that cut a tunnel through the spectra.
The equalisation section of Portal Drum contains a HPF for keeping your tunes lite while the GAP EQUALIZER drastically contours and pushes frequency content to the edges providing a huge array of drum tones.
The Portal Drum is the first instrument of ours to feature the DynaControl system.  This gives the user a way to macroise a particular drum design and be able to play it easily and musically with minimal external patching.  In fact, only one wire is needed to control the hit and up to 6 parameters which gives the user a realistic 'how hard'  input as found on a real drum.
Portal Drum is capable of a ton of different drum sounds - everything from minimal 'pillow kicks' and toms to esoteric perc sounds, rimshots, woodblocks, claves, and ticks n clicks.  Just listen and twiddle and you will find your own special spots.
 Demos
Features
PORTAL and SATURATION wave distortion modes (CVable)

PITCH modulation with custom envelopes provide fully adjustable FM sweeps (CVable)

Selectable pitch envelope shapes: 'Rabid Elephant' and 'Classic'

AMP DECAY for adjusting the duration of the kick (CVable)

TRANSIENT generator for adding all sorts of colours of cliks, tiks, cluks, etc. (CVable)

HPF gives other bass frequencies room and controls liteness

Powerful EQ sculpting with the Gap Equalizer (CVable)

MEOW displaces the bloom of harmonic energy instead of placing it all up front

Three meticulously crafted custom envelopes for FM, AMP, and TRANSIENT

DynaControl system for applying musical dynamics to any or all CVable parameters with just a single input - with one cable it is possible to expressively run the entire drum

Six switchable analogue S&H circuits on all CV inputs

Fully-featured 3 mode attenuverters on all CV inputs for biploar, unipolar positive, or unipolar negative knob operation.

Dual concentric conductive plastic pots with long cycle life and smooth action to increase feature density with no compromises to ergonomics

Low loss, high speed active reverse voltage protection, overcurrent protection, ESD protection